Origin
The hope to revive the oldest round school building in Japan that has been the pride of the small town
The old building of Meirin Elementary School, which is considered to be the oldest round school building in Japan, is located in Kurayoshi-city, Tottori. Round school buildings were built across the nation around 1955 to address the increasing number of school children caused by the baby boom after WWII. The construction of the old building of Meirin Elementary School was completed in 1955 as well.

Unfortunately, after more than 10 years since the building was closed, the exterior was dilapidated with broken windows replaced with plywood. You could also see rust on the veranda fence, broken floor tiles and water stains on the ceilings. Due to significant deterioration, the old building of Meirin elementary school, the symbol of the town, was initially planned to be demolished.
Suggestion of a new culture to the nation and the world through the figure museum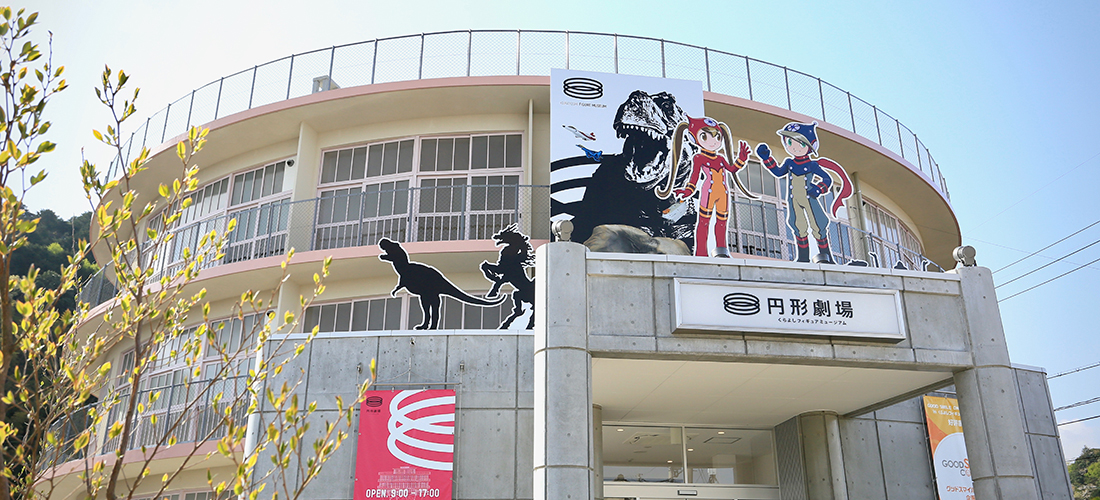 After the demolition of the school building was announced, there were many objections raised to it, as it was hard for local people to believe that the round school building, which had been a part of their town, would disappear. Some of them started to collect signatures for a petition to repair the building step by step and restore the original appearance.
As a result, they managed to collect nearly 7,000 signatures and successfully stopped the old round building of Meirin Elementary School from being demolished.
Then there was another thing – just restoring and preserving the building as the symbol of the town didn't seem enough to us.
The building has one-of-a-kind architecture that features a spiral staircase in the center and fan-shaped classrooms as well as unique exterior. In order to make full use of it, we decided to turn it into a large-scale figure exhibition facility in collaboration

with Good Smile Company Inc., a major figure manufacturer, Kaiyodo Co., Ltd., one of the most established figure brands in the industry and Yonago Gainax Inc.

At Enkei Gekijo, we are hoping that many people find the round school building "interesting" while enjoying the exhibition of figures that represent "Cool Japan". At the same time, we are also hoping that visitors learn about Japan's advanced figure production techniques at the exhibition. We believe that the figure museum is beneficial to both the school building and the figures.
We intend to make the building a great facility so that, in the future, local kids can proudly say "There are a round school building and a figure museum in my town!".